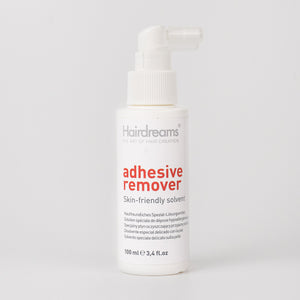 For the removal of Hairdreams Microlines with adhesive tape attachment
Content: 100 ml
Application:
Use ADHESIVE REMOVER to gently remove MicroLines with adhesive tape attachment.
ATTENTION: This is a professional hairdressing product for salon use. Please proceed very carefully and cautiously when using it!
Spray the remover spray directly onto the adhesive area and let it work for a short time (do not spray into the eyes!). Gently rub it with your fingers and loosen the MicroLines from the scalp. If necessary, spray a little more Remover and remove the adhesive strip from the scalp. Then wash your hair with Hairdreams Shampoo and use the Microlines DeGreaser for deep cleansing after drying, before reattaching with adhesive tape.