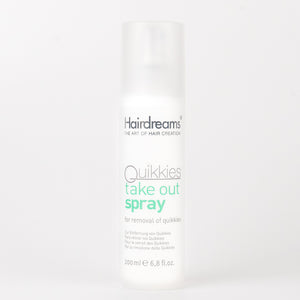 For fast, gentle removal of Hairdreams Quikkies, Secrets and other tape-in extensions
Content: 200ml
Application:
Use TAKE-OUT SPRAY to remove quikkies, secrets and other hair tapes quickly and gently.
ATTENTION: This is a professional hairdressing product for salon use. When removing the tapes please proceed very carefully and cautiously!
Spray TakeOut Spray carefully on the upper edge of the tape connection and let it work for a short time. Then massage it with your fingers to loosen the tape connection and spray a little more if necessary. As soon as the 2 parts come apart, use your fingers to remove first the upper and then the lower part of your own hair. Don't pull too hard on the joint - it is very thin and can break easily. Spray any remaining hair with Take out Spray again and comb it out carefully with a fine comb.