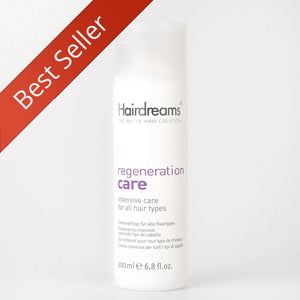 Intensive conditioning conditioner, highly popular with Hairdreams users, which makes the hair fantastically smooth and easy to comb.
Content: 200ml
Application:
Use REGENERATION CARE for optimal, intensive care of your hair extensions or thickening. After every hair wash, massage a small amount of the intensive treatment into the lengths and ends of damp hair and comb it in further with the Hairdreams brush. Then leave the treatment to work for between 3 and 10 minutes, depending on the care required. Rinse the treatment very thoroughly afterwards.
ATTENTION: Please do not apply Regeneration Care directly to the bondings/connections! The tapes and bonds with which your Hairdreams hair is attached may otherwise come loose!