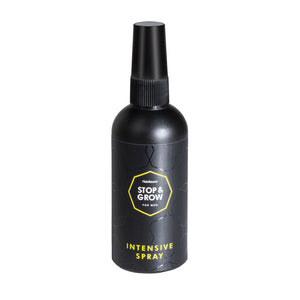 Intensive scalp treatment with highly concentrated PHT active ingredient formula.
A powerful and effective way to combat genetically caused hair loss and stimulate the hair regeneration process. Activates dormant hair roots to support the growth of new hair.
With UV protection for the scalp. To effectively prevent and combat advanced genetically caused hair loss.
Content: 100 ml

Application:
Use Stop&Grow MEN INTENSE SPRAY daily on dry or freshly washed, towel-dried hair! Spray evenly onto the scalp and massage in for 2-3 minutes. Do not rinse out!