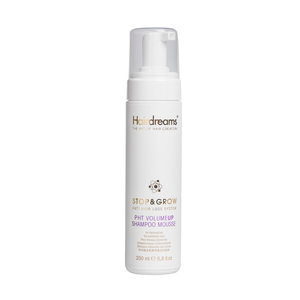 Gentle cleansing, hair strengthening and volumizing foam shampoo with PHT active ingredient.
Ideal for daily hair washing.
200ml bottle with practical dosage dispenser

Application:
Use STOP&GROW VOLUME UP SHAMPOO during your Stop&Grow Anti-Hair Loss Therapy for gentle, thorough cleansing of hair and scalp. Massage a small amount of the foam shampoo into damp hair from roots to ends. If necessary, apply a second time and leave on for a short time. Rinse very thoroughly!