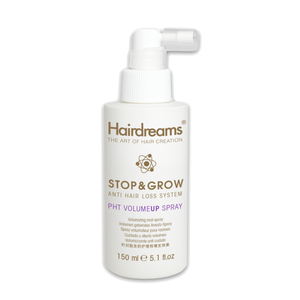 Volumizing spray with PHT active ingredient.
Ideal for hair styling.
150ml bottle with application device for precise application

Application:
Use STOP&GROW PHT VOLUME UP SPRAY to accompany your Stop&Grow anti-hair loss therapy or simply as a volumizing styling product for more strength and power directly from the hairline.

After washing, spray the spray directly onto the roots of towel-dried hair (parting the hair several times) and massage it in briefly. Then style, blow-dry or turn the hair on a winder as desired. Please do not let your hair air dry after using VolumeUp Spray - the strong styling effect could make the hair sticky and stiff.